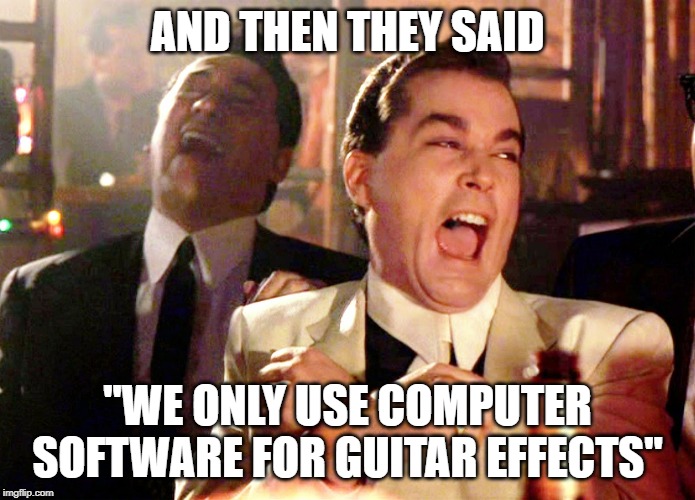 (source – imgflip.com)
A belated Happy New Year to everyone out there in FP Land!
The end of the year was quite busy trying to juggle the usual family commitments with the end of year rush. However, on top of that, we were busy preparing our first videos for our new YouTube channel. Its a lot of fun putting together videos for everyone to check out the goods (in the real sense of the word) we have at Feedback Pedals. We are truly amateurs trying to do a pro job when it comes to hosting videos, but …we will keep working on making it more interesting and at least bearable to have to stare at our ugly mugs!
One of the first videos we did was actually to announce the addition of the Fulltone brand to our catalogue! It is awesome news for us and we are super excited to have these truly amazing sounding boxes of juice in our midst and to make them available to you! Fulltone is known the world over for its quality pedals and I wanted to take this opportunity to give a bit more information on them.
What to expect from Fulltone?
There are basically two types of boutique pedal producers – there are more, of course, but I am more talking about the brands we would be interested in at FP:) The first is a pedal maker that creates what would be considered as original circuits. These guys are looking to create new sounds and new capabilities on your pedal board.  Some of the producers I would put in this category are Dr. Scientist, Caroline Guitar Company, and Fairfield Circuitry The second category of builders are those that design and build pedals to emulate classic sounds. They achieve this in many different ways. Catalinbread looks to achieve classic sounds by building seemingly original pedals that emulate the sounds of the classic tones we fell in love with by listening to the Stones, Cream, Jimi and others. They emulate not only classic pedal designs but also entire amp tones, or the effects created by amp components. However, there are those that take a classic circuit that is seemingly no longer available to the public (i.e. no longer in production) and create "new versions" of these pedals, not only duplicating the tone you could achieve with them, but improving the pedal design and features. Fulltone is a master at this – probably the best!
Now almost everyone that has bought a guitar pedal in their life, whether it be a Behringer or Strymon, I am sure they have all heard of Fulltone's OCD. It is at least close to the most successful model Fulltone has put out in their history. And this one, strangely enough, is an original circuit. Its best competition is probably the FullDrive-2 Mosfet, which was voted by Guitar Player magazine as one of the 50 best effects ever. So you see that Fulltone is very capable of doing both very successfully. They are known around the world for their quality, and supported by their history of building pedals for some of the most famous players in the world. The shortened list includes Mike Campbell, Kirk Hammet, Joe Satriani, John Mayer, Tom Petty, Peter Frampton, Gary Clark Jr., Paul Gilbert, Jeff Beck….the list goes on and on.  No matter what, with a list like that, you know you are doing something right!
So when looking at Fulltone's lineup you really have the option of going into the world of "clones" or originals. Fulltone does both, and very well.
Of course we will be filling out the Fulltone lineup as time moves on with many of their juicy morsels of tone, but why not run through what we have on offer so far!
Fulltone has a lot more goodies to look at on their site at www.fulltone.com. We have pretty much the entire Fulltone lineup at our disposal at anytime, so if you have any other model in mind, just give us a holler at info@feedbackpedals.com, or through our Facebook page and we will definitely help you out!